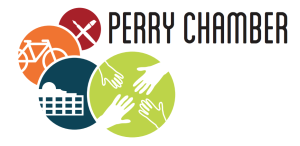 The next ribbon cutting event for the Perry Chamber of Commerce is Friday, and the public is invited to welcome a long-standing business into the fold.
Wells Fargo Bank in Perry recently joined the Chamber, and the ribbon cutting is to celebrate that new partnership. The event will be held at 10 a.m. Friday at the bank, which is located on the corner of Lucinda and 1st Street. Chamber Director Lynsi Pasutti says it's exciting to see the membership grow, regardless if it's a new or established business in the City. She also reminds people that events like this are free and the community is welcome to join the festivities. "A lot of times it is just Chamber members that will attend, but it is open to the public. It is a great chance to kind of see the inside of a business, especially if you're not a regular customer or client of theirs. But then also to show your support of them being here in the community. So (it's) just a great chance for our Board, our Ambassadors, our members, and then just community members to come and support and then meet their team for that business that's hosting it."
To learn more about this and other upcoming Perry Chamber events, click the link below to listen to the most recent Perry Fareway Let's Talk Dallas County program with Pasutti.
https://www.raccoonvalleyradio.com/2019/08/09/lets-talk-dallas-county-8-9-2019-lynsi-pasutti/