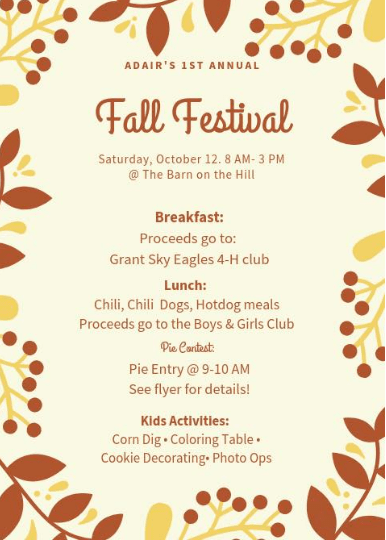 The Adair Chamber of Commerce is seeking to give more free family-friendly entertainment year round, while also helping nonprofit groups, by hosting a new event this weekend.
The inaugural Adair Fall Festival will take place from 8 a.m.-3 p.m. this Saturday at Schafer's Barn on the Hill at 1459 White Pole Road. The day will include a biscuits-and-gravy breakfast served by the Grant Sky Eagles 4-H Club, a chili/chili dog and hot dog lunch served by the Boys and Girls Club of Central-Southwest Iowa, and the Schafer staff will be selling bloody marys and mimosas to adults. There will also be free kids activities such as a corn dig, coloring table, cookie decorating, and photo opportunities. Chamber Vice President Brenna Westergaard says they wanted to help community groups with this event, "So I kind of put this fall festival together in my head and I wanted it to be something that other businesses or nonprofits can benefit from, so really the Chamber's only benefit is we're promoting business, we're not making money off this event. The Grant Sky Eagles is making money from their breakfast and we're letting the Boys and Girls Club throw a fundraiser."
There will also be a first-ever pie contest fundraiser for the 2022 Adair Sesquicentennial. Adults and youth are welcome to bring their baked pie in a tin pan at no charge for the contest from 9-10 a.m., and awards will be given to best overall, best youth, and best pumpkin pie. Pie slices will then be sold during the lunch to raise funds for the sesquicentennial.