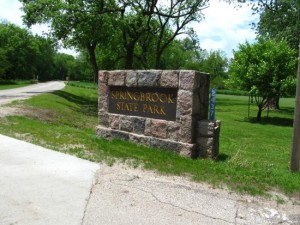 As the COVID-19 pandemic has driven more Iowans out to enjoy state parks, visitors are reminded of ways to keep these outdoor amenities enjoyable for all this summer.
More visitors means more trash, so Springbrook State Park Ranger Rod Nelsen asks the public to "leave no trace" by bringing along trash bags and taking your leftover cans, plastics, and other garbage home with you. Campers are also asked to not burn garbage, as it can cause extra messes and contaminate the air. Nelson says since the park has not been able to host group events this summer, Iowa Department of Natural Resources Training Specialist Anne Riordan has come up with a creative way to entertain the public while keeping cleanliness in mind, "She's kind of turned that into a game, if you will, like a scavenger hunt and have posted little signs on some of our trash cans and ends up being a set of clues that the kids can follow and eventually discover which animal left this track or left this piece of trash and it makes it into a game and folks are encouraged of course to obviously pick up litter along the trails if they find any and when they put it in the garbage can they can pick up the next clue."
Nelsen also reminds the public to stay on trails as walking off them causes soil erosion and can harm nearby ecosystems. Visitors are advised that it's illegal to have a dog off-leash or on any state park beach, and if you see a tree limb across a trail, something broken, or any kind of suspicious activity at Springbrook, to let park staff know as soon as possible.