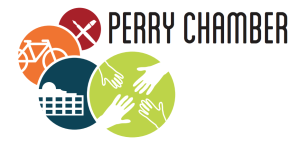 Even though it is still cold outside and covered in a fluffy blanket of snow, the Perry Chamber of Commerce is preparing for warmer weather. 
Perry Chamber Director Lynsi Pasutti says this will be the second year of the Big Boom Bracket Battle that takes place in March, to coincide with the NCAA Tournament, and as a way to raise money for fireworks in July for Perry. Even though the pandemic is still going Pasutti says the plans are still the same. 
"This year, fingers crossed, we'll be able to execute this fundraiser within a reasonable timeline that makes sense within March to coincide with that very fun, very public tournament."
Pasutti says while it's hard to believe that March is nearly here, they will be starting to put out information on how to nominate someone to be in the bracket very soon. The Chamber then reaches out to those nominated. 
"We contact them to say 'Hey are you okay with the possibility of getting a pie in the face,'  because ultimately that is the grand prize for winning the bracket battle."
Pasutti says there are multiple rounds of the event including an elimination round on Facebook to then begin filling out the bracket including the Explosive Eight, The Fire Cracker Four and then the Grand Finale Duo. The elimination Facebook rounds features voting with likes and the actual brackets feature donations.